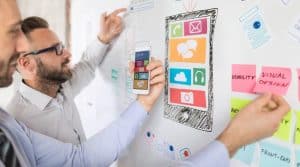 Mobile App Development Process: Step-by-Step Guide for 2022
According to a McKinsey survey, more than 77 percent of CIOs are considering a mobile-first approach for digital transformation. The next generation of customers and employees will be digital-native and have greater familiarity with touch screen devices. Moreover, the business case for mobile apps continues to expand as 85 percent of American adults own a smartphone as of 2021, up from just 35 percent in 2011. Mobile apps are now a necessity for businesses to attract new customers and retain employees.
At Invonto, we've helped many SMBs and Fortune 500 companies successfully launch their mobile apps. In this article, you'll get a closer look at the mobile app development process that our engineering team has established while developing products for companies like Transamerica, SealedAir, D.R. Horton, Comcast, Epicor, Bottomline, West, and many others.
Mobile Applications and Device Platforms
There are two dominant platforms in the modern smartphone market. One is the iOS platform from Apple Inc. The iOS platform is the operating system that powers Apple's popular line of iPhone smartphones. The second is Android from Google. The Android operating system is used not only by Google devices but also by many other OEMs to built their own smartphones and other smart devices.
Although there are some similarities between these two platforms when building applications, developing for iOS vs. developing for Android involves using different software development kits (SDKs) and different development toolchain. While Apple uses iOS exclusively for its own devices, Google makes Android available to other companies provided they meet specific requirements such as including certain Google applications on the devices they ship. Developers can build apps for hundreds of millions of devices by targeting both of these platforms.
Alternatives for Building Mobile Apps
Each of these approaches for developing mobile applications has its own set of advantages and disadvantages. When choosing the right development approach for their projects, developers consider the desired user experience, the computing resources and native features required by the app, the development budget, time targets, and resources available to maintain the app.
Native Applications
Cross-Platform Applications
Cross-platform native mobile applications can be written in variety of different programming languages and frameworks, but they are compiled into a native application running directly on the operating system of the device.
Hybrid-Web Applications
Hybrid mobile applications are built with standard web technologies – such as JavaScript, CSS, and HTML5 – and they are bundled as app installation packages. Contrary to the native apps, hybrid apps work on a 'web container' which provides a browser runtime and a bridge for native device APIs via Apache Cordova.
Progressive Web Applications
PWAs offer an alternative approach to traditional mobile app development by skipping app store delivery and app installations. PWAs are web applications that utilize a set of browser capabilities – such as working offline, running a background process, and adding a link to the device home screen – to provide an 'app like' user experience.
Alternatives for Developing Mobile Apps
There are advantages and disadvantages to building an application, no matter which approach you choose. By choosing an approach that matches your strategy, you can achieve the desired user experience, avail computing resources, and build native features required for your application.
Why Choose Native App Development?
Choosing native app development helps when you want to use native capabilities offered by the platform. Native apps can access the hardware capabilities of the devices like GPS, camera, microphone, which helps in quicker execution of features making it easier to build a rich user experience.
Push notifications are much easier to implement on native development. For example, push notifications to go through iOS Server (APNS) and Google's Cloud Messaging Platform. Native apps have fewer bugs, as the code is compiled in the native language.
Why Choose Cross-Platform App Development?
The market is divided about 50-50 between iOS and Android. Your potential customer could be on any of the platforms, and sometimes on both. Building separate apps for both platforms requires an adequate budget, and not all companies have that. Moreover, developing native platforms can make it harder to offer the same amount of speed and functionality required by your app.
Choose cross-platform development if you wish to align the user experience across all the platforms; you wish to have one development team publishing for both the platforms; and you don't have the budget and time to build and maintain two different apps separately.
Why Choose Progressive Web App Development?
Progressive Web Applications (PWAs) are written in traditional web languages like Javascript, HTML5, CSS, and such. These apps are only accessible through the browser of your device. So, choose to develop a PWA if your user will have uninterrupted access to network connectivity, and they can solve their issues through the browser itself, without requiring any native capabilities of the device like camera, machine learning module, GPS, gyroscope, and such.
With that in mind, let's understand the mobile app development process step by step and get to know everything you need to follow a systematic mobile app development process to build your next great app.
Mobile App Development Process
The first step in the mobile app development process is to create a strategy by defining why? What is the objective of your app? How will your mobile app solve an industry problem? What is your business model? How much are you ready to invest in building this app? What is your revenue model? How will you market your app, and to who? Answering these questions will give you a fair idea of how you can move forward with your mobile app development process.
You can start by defining the user persona. For example, suppose you are planning to build an eCommerce app. In that case, you will define your user persona by understanding your user's age, their mobile usage habits, their preference, and specifically answering why and how they will find your mobile app users. Based on this, you can create an MVP (Minimum Viable Product).
Brainstorm your app idea
Building a mobile app starts with an app idea. However, you require an extensive amount of brainstorming to develop an ultimate list of features you can offer your customers. You can start with the essential elements and note down other lesser crucial features as they are revealed to you. Who knows, you might surprise yourself with ideas you never knew you could implement. Sit together with your team, and ask them for all the ideas they can come up with.
Market Research, Mobile App Development Tech Stack
Define your Minimum Viable Product
Once you are clear about all the functionalities you can include, the functionalities your users will like to use from the start, you define what your minimum viable product would look like. A minimum viable product is the version of your app that has enough features to put it in front of your early customers so that you can receive feedback on product features and further development.
Software development kits
Mobile app development requires access to software development kits (SDKs) that provide a simulated mobile environment for programmers to design and test code. However, creating an app does not require full use of these kits. For example, developers can create mobile games using Unity and then use the Android SDK to ensure its deliverability on mobile devices. Developing apps for iOS requires a paid iOS developer license, whereas the Android SDK is freely available to users.
iOS and Android have similar mobile market shares (47% and 52% respectively), but developing for Apple is somewhat easier in that you don't need to worry about a wide range of devices from different manufacturers. Whichever operating system you choose, however, there are barriers to entry.
App development process
Regardless of the type of project you want to bring to life, the app development process has six key steps. Breaking the project down into these simple steps will help you develop your app quickly and efficiently.
Idea: When brainstorming app ideas, put some research into answering a few questions about it. What problem does this app solve? Who is the target audience? Why are these features important? Do your competitors have similar apps.
Design: Next you'll design a user interface (UI) and to navigate the user through the app and make it easy to follow.
Development: During this stage you'll write the code for your app, develop the code and start preliminary testing.
Testing: By testing your app, you'll determine its quality, any malfunctions and what you can improve.
Launch: Once your app is bug-free and ready to go, you can publish it on marketplaces like the Apple App Store and Google Play.
Marketing:Create a marketing strategy to get users to download your app and give you feedback on how to improve user engagement.
Resources:
https://www.invonto.com/insights/mobile-app-development-process/
https://aws.amazon.com/mobile/mobile-application-development/
https://www.openxcell.com/mobile-app-development/
https://www.businessnewsdaily.com/5155-mobile-app-development.html